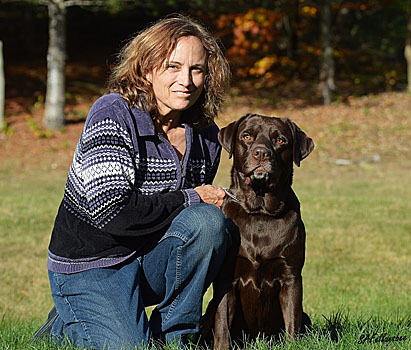 Hello, I am Marianne Rousseau, Esq. of Weare, New Hampshire. I am proud to share the labradors that I love with you, and hope that you will enjoy your visit to my webpage.

I first fell in love with Labrador Retrievers in 1992 when I visited a wonderful breeder named Bonnie McCarthy of Allendale, New Jersey. I had decided to purchase a chocolate labrador puppy, and wanted to go to a reputable breeder. Although there was only one puppy left at the time, my little "Hershey" captured my heart and came home to New Hampshire with me.

I showed Hershey in obedience and soon we had earned our CD (Companion Dog) and CDX (Companion Dog Excellent) titles in the American Kennel Club, Canadian Kennel Club and United Kennel Club Registries. Hershey got a little bored with obedience at this time, so we began hunt training. This turned out to truly be what Hershey loved to do, and soon he earned his WC (Working Certificate) and JH (Junior Hunter) titles. Hershey eventually returned to obedience and got two qualifications toward his Utility obedience title. I am very proud to say, both qualifications were First and Second Place.

Hershey's breeder, Bonnie McCarthy, and I became close friends. When Hershey's littermate "Perry" had pups, I went to visit and returned home with "Snickers". Snickers was shown in obedience, hunt tests and conformation. She earned her CD (Companion Dog) title in the American Kennel Club, Canadian Kennel Club and United Kennel Club Registries and her CDX (Companion Dog Excellent). She was pointed in the conformation ring as well. Snickers also adored hunt training. Her drive and determination were outstanding and she passed this onto her pups. She too has earned her WC (Working Certificate) and JH (Junior Hunter) titles.

Mousse and Truffles came to me through breeding Snickers. Mousse's sire was Ch. Marlin's Man in the Brown Suit, "Arthur". Truffles' sire was Ch. Saltmeadow Smoke, WC, "Smoke", owned by my dear friend and mentor, Carla Hyndman. Mousse and Truffles were highly intelligent and they were a joy to live with, as are all my labradors.

My first champion, Am/Can CH Saltmeadow Dickens at Cedarbay, a.k.a. "Dickens", came to me in January 2011, from Carla Hyndman. Yes, Dickens was black and not chocolate !!!! I adored him with all my heart and as he was always quite full of himself. Dickens was a (b/c) produced many lovely puppies in his lifetime. He always loved the show ring and was the consummate show dog. He was the first labrador I had the joy of showing at Westminster.

My dogs are not kennel dogs, but rather live in my home. All our dogs are cleared for hip, elbow and heart disorders through the Orthopedic Foundation of America (OFA). They are also cleared for all major genetic diseases common to Labrador Retrievers such as PRA (OPTIGEN), EIC, CNM, EIC, HNPK and are cleared for the dilute gene. In addition, I clear the eyes on all my dogs annually and have CERF clearances. I strive to produce outstanding temperaments and healthy, sound Labradors. My chocolate labradors are very dark in color, and all my dogs are well balanced, healthy and sweet natured.

If you are considering the purchase of labrador, I encourage you to contact reputable breeders. Do not hesitate to ask questions and insist on seeing pedigrees and clearances for the parents of a puppy you are considering. Although many breeders do not own both parents, you should at least visit the home of the dam's owner to see their dogs and to see where and how the dogs are kept.

Remember, Labrador Retrievers do not take a lot of grooming, but they need a lot of exercise, training, and love. If you purchase a puppy fully knowing what challenges you are taking on, you can look forward to having a lifetime companion and sharing many years of love and joy with your Labrador Retriever.